Copy Points
This option allows the user to Copy Selected points to another layer.
You can select the points using the standrd methods.
You can also select the destination layer and the start point number for the new points.

Select Points
Press button to select the points to be copied.
See Select Points for more info.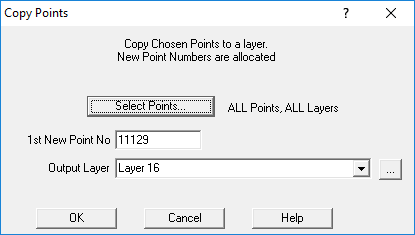 1st New Point Number
Enter the desired point number to be used.
It will automatically skip any points that are already in use.
IT WILL NOT OVERWRITE ANY EXISTING POINTS.

Output Layer
Select the ouput layer

[...]
Press to edit or create a new layer as required for the new points.