Set Lines Type
Sets the Line Type for the selected group of lines.

To set the line type for 1 or 2 lines, click on the 'Type' column on the lines
and type in the required code.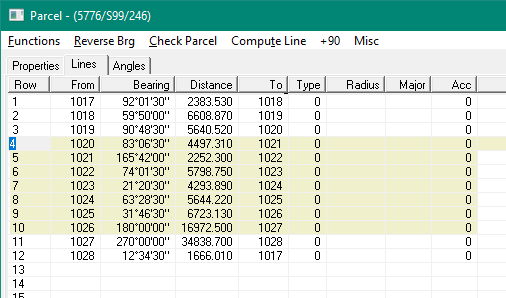 To Set the line type for many lines:
Select a group of lines as follows
Click on the Row number on the start row
Hold down the Shift Key
Click on the last row required to be selected
Now select the menu option 'Misc/Set Lines Type'.
Enter the required line type and press OK.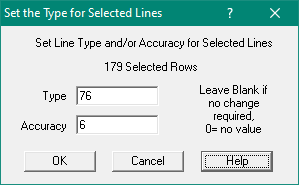 Accuracy
You can also set the line accuracy value, it must be 0-7. See Line Accuracy Rules for more info.
If you don't want to change the accuracy values, just leave this field blank.

Type
The line type must be a number from 0-999
See Parcel Lines for more info.
If you don't want to change the Line Type values, just leave this field blank.

Another way to Select rows:

Click on the Row number on the start row
Move to the From coulmn and press the Left mouse button down and drag the mouse down/up to highlight the required rows. The highlighted rows will have a different background colour