Pan to Point
The "Pan to Point" tool is accessed from the start screen after GeoCadastre loads.

To engage select "Pan to Point" from the "Zoom" Menu.
This tool can also be accessed by using the F6 shortcut key.

Enter the required point number in the window invoked.
or,
Enter two point numbers and the area between the points will be displayed.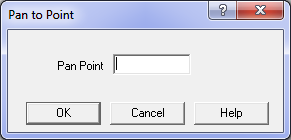 The screen will move so that the requested point is in the centre of the screen.
The display scale will stay the same.

Use the Zoom Window tool to zoom into the point if necessary.