Change Line details
This option allows you to change the line tag for a line in the Job.
Parcel
Click on a parcel line to change.
The plan and lot number for the selected parcel will be displayed here.

Line
This show the line selected.
If multiple lines are selected, it also shows how many are selected.
You can see the selected line on the screen diagram.

Curr Type
This is the current line type if the fisrt selected line.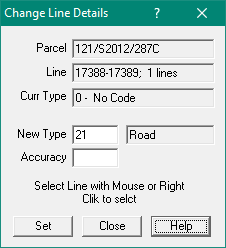 New Type
Type in the new Line Type number (0-1000 that you want assign to the selected Line(s).
This field can be left blank if you are only changing the accuracy.
Line Accuracy
Type in the new Accuracy code you require. (Optional). It must be in the range 0-7.
This field can be left blank if you are only changing the line type.
Set
Press to actually change the Line Type and Accuracy